Macro View
December 02, 2022
Portugal Economy: Government debt in October went down to below 117% of GDP, mainly by lowering depo
reading time: 3 mins
Gross Government's Debt in October outperformed, -216bp MoM and 116.7% of GDP; while net Debt underperformed +147bpMoM and roughly 108.4% of GDP. The difference is manly related with the Minfin reducing Deposits at Public Administration: -€9.7Bn MoM to below €20Bn, while the net debt (after deposits) increased €3.7Bn MoM, as a result of October's poor budget execution. Finally, the new target ratio of debt to GDP: 115.4% should be reached, namely by reducing the amount of Deposits.  
The Bank of Portugal has just released, October's Government debt data.     
The main highlights are the following:
1 – Gross Government debt (Maastricht definition), in October: €273 796Mn; -216bp MoM; +93bp YoY and 116.7% of GDP last 12months vs 12MMA (12 Months Moving Average): 123.3% and 3MMA: 119.1 (new target YE22: 115.4%);
2 – Net Government debt (after the deposits of Public Administration): €254 155Mn; +147bp MoM; +111bp YoY and 108.3% of nominal GDP vs. 12MMA: 113.2% and 3MMA: 108.4%.
Comment: Gross government debt went down 216bp MoM to €273 796Mn in line with the Government's target YE22: €274 104Mn, and 116.7% of GDP almost in line with Government's new target YE22: 115.4% ( we assumed GDP 4Q22 nominal growth 7.4%). The metric, Maastricht Debt, is manageable because is gross debt, before Deposits, so the Government can manage Deposits, namely in low volatility periods, can reduce Deposits and reach the target. In fact, Deposits at Public Administrations went down €9.7BnMoM to €19.6Bn vs. 12MMA: €22.6Bn . Finally Net debt increased €3.7Bn MoM to €254 155Mn, close to a record level, mainly due to the poor budget execution on October (deficit €2.7Bn).
Summing up, the actual MInfin, as was the case one year ago, is reducing Deposits to figures below €20Bn over the 4TH quarter and so, should be able to reach the target Debt to GDP ratio (Maastricht criterium) 115.4%. In periods of low volatility, it should not be a problem, while could be risky when volatility increases. Finally, net debt in October increased €3.7Bn MoM and reflects mainly October's poor budget execution, deficit €2.7Bn.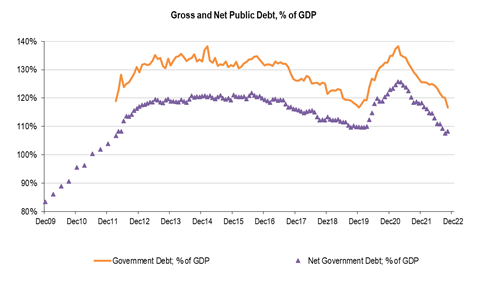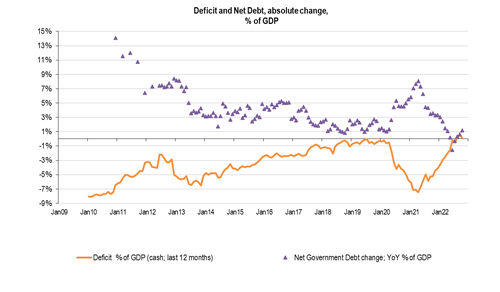 Bank of Portugal, INE, AS Independent Research
Artigo de autoria:
António Seladas, CFA
Back