Macro View
July 01, 2022
Portugal Economy: Government net debt is outperforming, supported in a positive budget execution
The Bank of Portugal has just released, May's Government debt data.     
The main highlights are the following:
1 – Gross Government debt (Maastricht definition) went up 48bp sequentially to €280 354Mn; +2.01% YoY and 126.6% of nominal GDP (last 12 months, assuming nominal GDP +2Q22:+10%YoY) or -40bp MoM (target YE22: 120.8%). Compares with 12MMA (12-month moving average) 129.3% and 3MMA: 126.8%;
2 – Net Government debt (after the deposits of Public Administration) is at €254 656Mn; -52bp MoM; +19bp YoY and 115% of nominal GDP vs. 12MMA: 119.5% and 3MMA: 116.1%.
Comment: Strong performance at Net Government debt level, mainly as a result of the budget execution, Important to mention that Net Government Debt increased by only €470Mn, over the last 12 months. Meanwhile Gross Government debt (the data that matters for Brussels) is still increasing, mainly to build a comfortable amount of deposits, May: €25.6Bn vs. December21: 15.6Bn.
Summing up, positive data, benefiting from a favourable budget execution over the last few quarters, supported on strong nominal GDP growth. Meanwhile, data is still not recognized in terms of gross debt, as the Government has been increasing the total amount of Deposits to a level more consistent with the current volatile environment.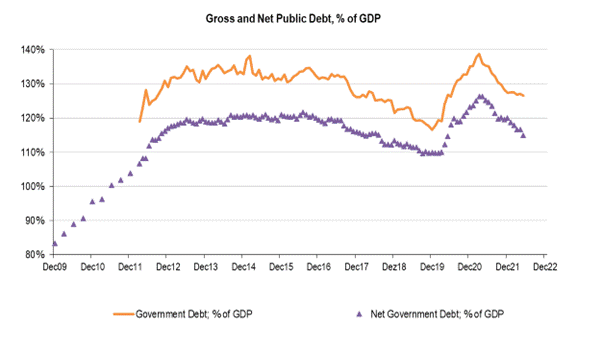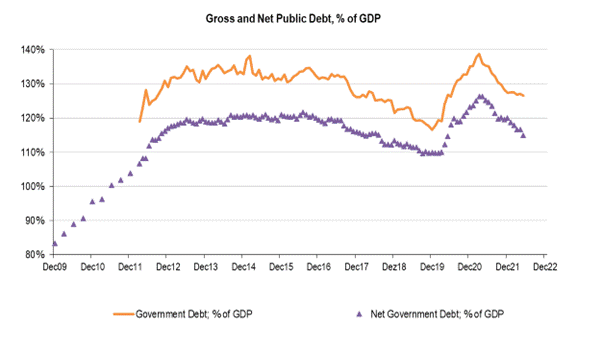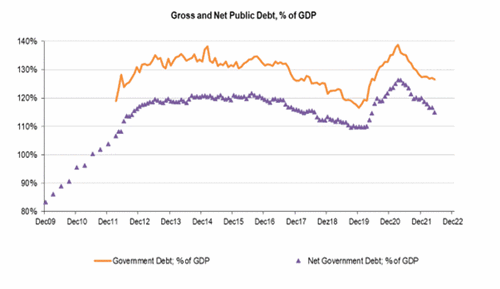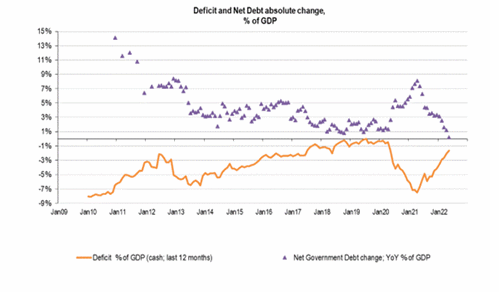 Source: Bank of Portugal, INE, AS Independent Research
Artigo de autoria:
António Seladas, CFA
Back